In this JAM/Panther Quarterly Update, Prolifics shares recent Panther announcements, including two limited time special offers. Also included is information on generating PDF files from Panther ReportWriter and Prolifics customer testimonials.
Panther 5.30 for Windows 32 and Windows 64-bit is Now Available!
Please contact support@prolifics.com to get your copy. For a New Features and Bug Fix list, click here.


Prolifics Announces the "JAM/Panther Maintenance Amnesty with FREE Product Upgrade" Program
Between now and August 31st, 2012, any JAM or Panther license that is currently unmaintained, can be re-instated without penalty*. Simply purchase a minimum of 1 year's maintenance going forward and you will have full entitlement to support services and license keys.

But wait... there's more!
Keep in mind, you may upgrade to the latest version of the product and associated database drivers at no extra charge. Also please inquire about converting these reinstated licenses to an alternate platform to get the most out of your investment.

Example: Reinstate JAM 7 on SCO and end up with Panther 5.3/Oracle10g on Linux or Windows with 1 year support.

Please contact Lou Handwerker or Heather Milone to discuss your needs and finalize your cost. Act today!

*50% cost of product

Windows Socket JTerm (WSJ32) SSH Released and SPECIAL OFFER Enclosed
WSJ with secure shell support is now available. This allows WSJ to connect to JAM/Panther applications on Linux and other systems that disable Telnet connections. The SSH support encrypts all terminal traffic for improved security.

Other improvements include a list of recent connections for quick access and a "keepalive" feature to avoid disconnects due to lack of activity.

As there is no maintenance for WSJ, one would normally have to repurchase WSJ-SSH at full price* to secure this version. However, we are offering WSJ-SSH, to replace your current version for US$75 each. For large quantities, please contact Lou Handwerker or Heather Milone.

*US$250.00 value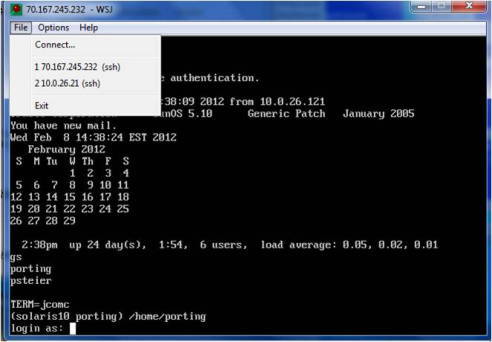 Generating PDF files from JAM/Panther ReportWriter
The new PDF Driver for Panther's ReportWriter allows you to create reports as PDF files. Existing reports will work without change. This driver uses font aliases found in the [PostScript Fonts] section of the cmap (color configuration map) file. You may also include fonts directly in PDF reports by adding font aliases to the [PDF fonts] section of the cmap file.

The PDF driver is run with the 'driver=pdf' report invocation option. You must specify either the 'output' or 'spool' option, unless the report is running in a Prolifics Web application.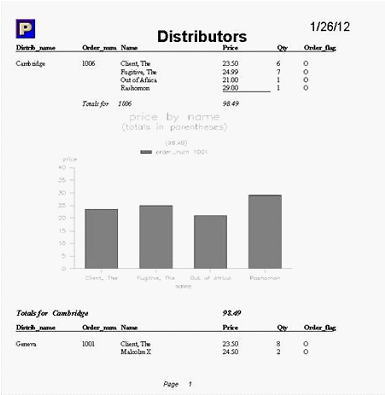 "The Geneva University Hospitals have been using Prolifics development products since 1990, starting with JAM v4.x, then migrating to Panther v4.x in 2002 and we currently are on Panther v5.x. The Panther IDE is used by the IT team to develop and maintain the Web Application for the HR information system (9 healthcare institutions in Geneva, 20,000 employees & 4,000 users who access HR information every day). The product is extremely stable, and the architecture is scalable and we have never had performance problems with our servers. "
- Pierre Cartier, Responsable du Domaine Ressources Humaines et Intégration Applicative
Hôpitaux Universitaires de Genève




"Xyquad Inc. has been using Prolifics JAM/Panther GUI development platforms for almost 15 years now. Our developers find Panther very user-friendly and easy to learn. We've done a number of migrations from one version of Panther to another and, as with all software migrations, various issues can arise. Prolifics addresses any such issues in a timely manner and the new release quickly becomes as solid and stable as the previous. Prolifics also is responsive to our requests for enhancements to their core product, providing new features which, we in turn, can use to make our application a more efficient and enjoyable experience for our end-users. We've been very happy with the partnership we've forged with Prolifics over the past several years and look forward to continuing that relationship."
- Michael Schwartz, Software Manager, Xyquad Inc.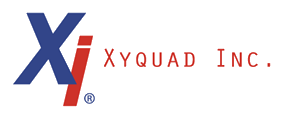 "Over the past year we have been able to integrate Open Office, Adobe, Fax capabilities and Evolution into our Panther applications. The ability to automatically launch external applications combined with the new functionality built into the JAM/Panther product has been an integral part of our new development efforts. Prolifics has provided us with new features in JAM/Panther, such as CLOB support for Oracle to enable us to meet our dynamic business requirements. We look forward to our continued partnership with Prolifics to provide feature rich applications for our clients using Panther."
- Nancy Grove, Programmer/Analyst Database Administrator, City of Largo, Information Technology




"We at the Gemtrak Group have been using JAM/Panther products for the past 20 years! Our company has been using Prolifics Panther intensely for the last 14 months, and the customer support team has been outstanding! We look forward to doing more great things with Prolifics in the future!"
- Joel Wittels, CTO, The Gemtrak Group